Hosting control panel, which one to choose?
Today we will talk about CyberPanel, a free web hosting control Panel to deliver speed and security, developed by OpenLiteSpeed and available free of charge to the community.
Having control intuitively to deliver an easy-to-use environment to the end customer is a market differentiator. Solutions such as cPanel, Plesk, DirectAdmin seek to make life easier for web hosting companies, they are recognized and referenced worldwide.
For those who are undertaking their first web hosting company, the solutions listed above can make it difficult to budget for the value of their licenses.
The Cyber Panel alternative
In these scenarios, where the initial investment is low, it is necessary to expand as alternatives and find a tool that can provide the necessary facility and security, having an investment value that makes sense for the moment of beginning hostings.
An alternative that offers these features and that sees growing numbers of users is CyberPanel.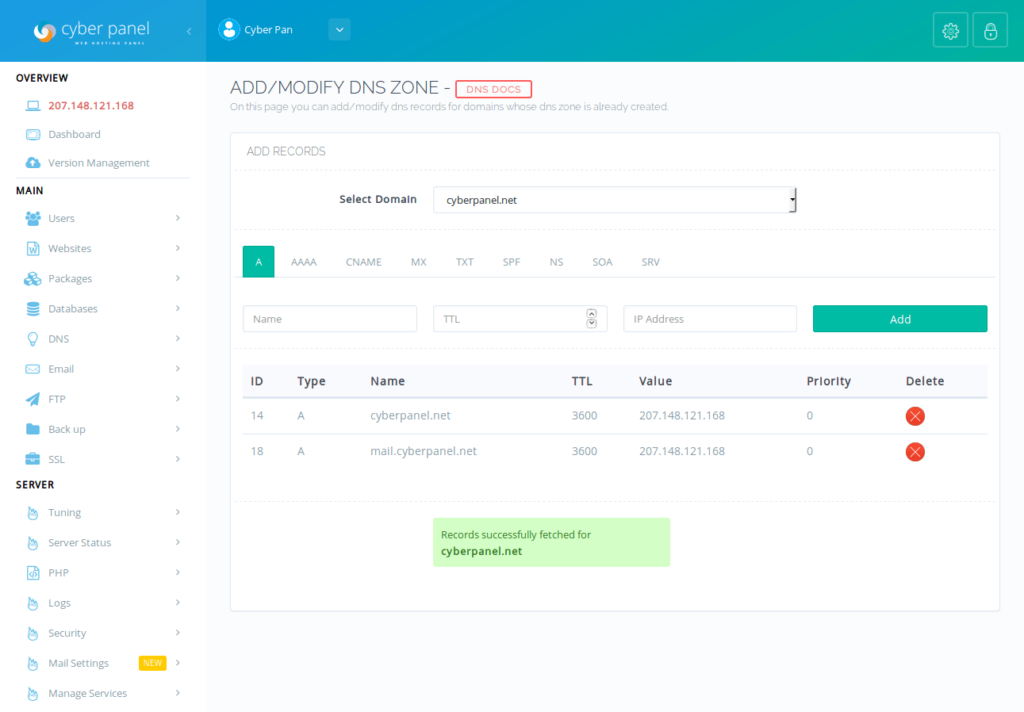 CyberPanel is a web hosting control with free license, designed for users and system administrators. Developed OpenLiteSpeed Web Server, with Pure-FTPD and MariaDB technology. Built for speed, security and reliability.
What does CyberPanel offer?
In addition to optimizing the budget of web hosting entrepreneurs, CyberPanel offers several tools for the use and development of websites.
GIT deployment
Attach GIT repositories (Github and GitLab) to your CyberPanel sites and deploy the code directly from your repositories through GIT webhooks.
Automatic installer
CyberPanel comes with a one-click app installer for WordPress (with LSCache), Joomla and Prestashop.
ModSecurity
Integrated support for ModSecurity, real-time defence against web application attacks, option to enable Comodo or OWASP rules.
Email limits
Use Email Limits to prevent email spam. Email limits can be applied at the domain and email level with options to enable or disable email logs.
One Click SSL
SSL is now mandatory for all online properties, you can issue Let's Encrypt SSL for websites, child domains and hostnames free of charge.
Light DNS server
CyberPanel comes with a powerful and lightweight DNS server (PowerDNS). Supported record types include A, AAAA, CNAME, MX, TXT, SPF SOA and SRV records.
Command Line Interface
CyberPanel comes with a command-line interface for people who love working at the terminal, almost everything you can do from the control panel interface can be done via the CLI.
FirewallD and SpamAssassin
Security is integrated with CyberPanel, FirewallD is installed by default and only the necessary ports are opened. CyberPanel also comes with SpamAssassin to prevent email spam.
Installation requirements
As free web hosting control Panel, with your free license, your new hosting company will grow with speed and security.
The easy-to-use management interface is an excellent alternative to cPanel and Plesk.
Cyberpanel requires that your server be equipped with at least the following:
SO: CentOS 7.x, CentOS 8.x, Ubuntu 18.04, Ubuntu 20.04;
Python: 2.7;
RAM: 1024 MB or higher;
Disk space: 10 GB.
(If you plan to host many sites on your server, we recommend a significantly higher level of RAM and available hard disk space to accommodate many users)
Here at LetsCloud, we created how to install CyberPanel for you, let's check it out!