Ubuntu is one of the best-known Linux distributions, either for personal computers or the corporate market.
One of its main features is the use of the GNOME interface as the system standard.
It became a tradition: the launch of each version "04" of Ubuntu Desktop brings a new release of the GNOME Project.
With the release of GNOME version 40, the Ubuntu community was excited to receive the new interface update. Traditionally, in the next Distro release: The Ubuntu 21.04 — "Hirsute Hippo" version.
But this is not going to happen this time.
You must be wondering… "Yeah, but why?"
And today's post will answer you.
Sebastien Bacher's post makes all sense
In a recent post on Ubuntu's Discourse, developer Sebastien Bacher wrote:
"The topic of what to do about the new GNOME started being discussed and after some consideration, we decided to stick to GTK3 and GNOME 3.38 this cycle.

There are quite some moving parts in GNOME 40
The new shell design, is it going to be fully ready in one cycle? what's the impact on our desktop and extensions? we will likely have design questions to resolve and non-trivial code changes
GTK4 is out, Debian is packaging it (currently waiting on NEW review) so that part shouldn't create extra work for us but then what's the impact? is the new version stable enough? GNOME isn't likely to transition fully over a cycle, does it bring risks? Yaru and the new GTK, how ready is it?
Those are topics we are going to spend resources on and ideally we would be helping to move things forward, but it's already mid-cycle, we didn't account for any of those and the team is already overworked."
So, according to Sebastien Bacher, the reason behind this is the stability of a new GTK4 toolkit, a major shell design overhaul in GNOME 40.
Due to the new GNOME shell design, Ubuntu's developers are avoiding upgrading desktop packages to GNOME 40 because it can have a big impact on the Ubuntu desktop and extensions.
The same goes for the recently released GTK 4 toolkit, which will not be available in the next release of Ubuntu 21.04 due to thematic issues, as Canonical develops its desktop theme for Ubuntu called Yaru.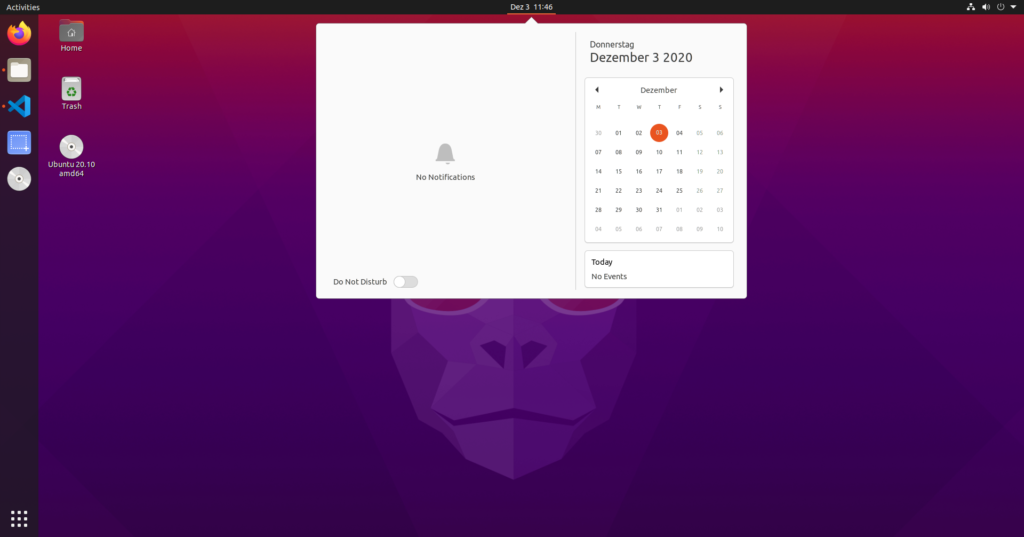 So this decision, albeit a disappointing one, makes perfect sense. Even though 21.04 is a short-term support release, Canonical doesn't want to unleash a version of Ubuntu that is not polished.
What to expect in Ubuntu 21.04 (Hirsute Hippo)
With Ubuntu 21.04, user's home directories will finally be private, safe, and secure.
The Home folder is no longer 'world-readable' by default. Or to be explicitly technical, the directory permissions have changed from 755 to 750. That means:
Only the owner (the user) has read, write, and execute permissions
Group has read and executed permissions
World has zero permissions
It sounds crazy, but it is true, and you can read more about it here.
These and other changes to expect in Ubuntu 21.04:
Python 3.9 by default;
Linux 5.11 kernel (or newer);
Private home directory;
App updates;
New wallpapers;
GNOME Shell performance tweaks;
USB4 and Thunderbolt enhancements;
Sound support by Intel Alder Lake;
Support for Guitar Hero Live PS3 and WiiU dongles;
Better detection of the Lenovo ThinkPad;
First lanes for PCI Express 6.0 support;
Support for Corsair Power Supply;
Support for new ASUS gaming laptop keyboards.
This post will receive updates regularly to keep cover the changes.
Download Ubuntu 21.04
You can download Ubuntu 21.04 right now, though only as an unstable build.
The official release date is April 22, 2021 – with a final, stable, polished, complete version.
Still, you can download the Ubuntu 21.04 (Hirsute Hippo) Daily Build below.

And now, will Ubuntu surrender to the new GNOME design? What do you expect from the next versions of Ubuntu?