Let's be fair 2020 brought us dark times. Appropriately matching our moods, our favorite tech companies gave us dark mode.
I have no desire to revisit the painful events of 2020, but for the record, a lot of things happen, but again, it is over, and the vaccines are coming. Hopefully, 2021 will bring more protection against the pandemic.
In times when our eyes could rest a little, surely a bunch of news ideas can pass through our minds. Some of them have all the potential to become new projects.
Some of us had to reinvent ourselves due to the worst economic crisis in history.
It's time to review your goals for 2021 and go further, aiming your organization and tools for optimizing your new projects.
How can Scrum improve your life as a creator of something new? What tools are good and free to use for it?
Today's post is all about it.
Grab a coffee, keep reading and discover new solutions with us.
What are Scrum and Sprints? How your ideas are turned into value?
According to scrum.org – Scrum is a framework within which people can address complex adaptive problems, while productively and creatively delivering products of the highest possible value. Scrum itself is a simple framework for effective team collaboration on complex products.
For those who have used the Agile methodology, Scrum makes perfect sense. After all, it was structured within the Agile manifesto.
Every project that is structured within Scrum will have its development organized in iterations called sprints. A sprint must always respect the rule of working periods. Usually, this period lasts from one to two weeks and never more than 30 days.
To start a Scrum with Sprints is to think easily, with clear and well-documented objectives.
It usually starts with user stories, which express a simple use case in the well-known Scrum format:
As a [user], I want [objective], so that I [receive a benefit].
The Sprint view can make you see beyond the usual
User stories are collected in backlogs and then prioritized in sprints by the Scrum team responsible for that product or project.
This Scrum team is vital. Therefore, it must be formed by multi-functional professionals who estimate how long the items will take to complete.
This team is usually made up of professionals from different areas, who share the production and success of this information exchange.
Nothing should go unnoticed, so even with the end of the sprint, be it weekly or monthly, a retrospective analysis of this sprint should be carried out to ascertain suggestions and improvements for some element of this project.
I have participated in several closing sprints that served to create other related Sprints or even become another project.
The great advantage of Sprint within the Scrum structure is the focus on iterative and incremental deliveries.
Small deliveries in small cycles make the difference when creating a project.
Whether in a large consolidated company or for those who are starting to structure their small business.
With all that in mind, review and start your Sprint Planning.
Learning to become a certified Scrum professional is a choice of many developers who aspire to become Product Owners.
If you are interested in this path, the best place is at scrum.org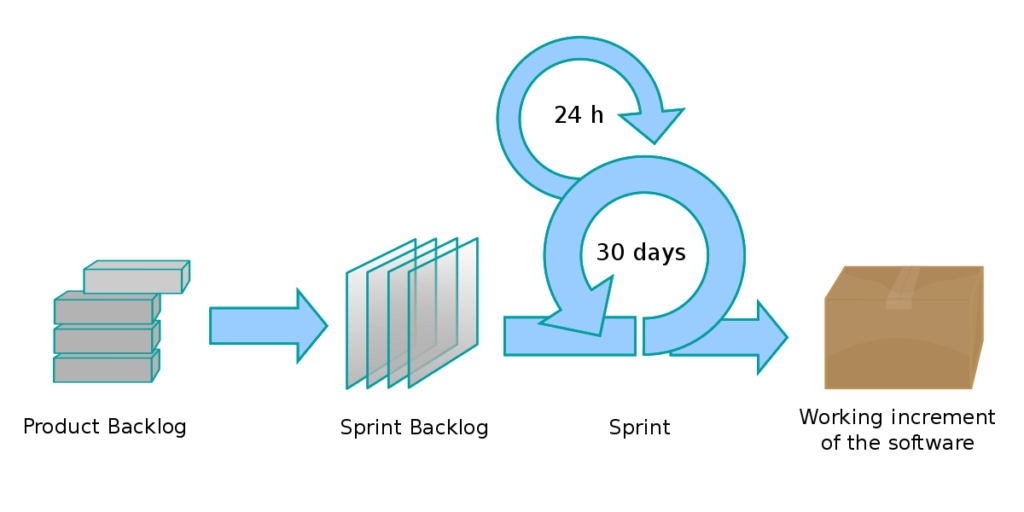 It's easy to start using Scrum – with free software designed for that!
When it comes to Scrum, I have my personal preferences when it comes to choosing the software.
After several sprints, you end up getting addicted and feeling safe with your daily tool.
But, I will not tend to your choice, I will not speak directly about my favorite pick.
Therefore, based on the Getapp list, the selection here follows the recommendation of world Scrum users.
Free Scrum Software!
1 – Wrike
With a free version, allowing up to 5 users, and 2 GB of storage space, Wrike is a great choice for those with few resources to invest. You can check all the plans by clicking here.
2 – Atlassian Confluence
Confluence is a shared workspace for creating and managing all of your work. From product scripts to creative summaries, used by large companies, but completely free for teams of up to 10 people. To check out more just click here.
3 – Trello
For a quick and practical organization of your team, Trello meets the needs of those who are starting with new projects. A free version for access and with advanced integration options in the paid versions. You can check the options here.
4 – Bitrix24
Bitrix24 is an open-source, Cloud collaboration platform that provides CRM tools, document management, tasks, time management, and project management. Being able to meet your demands in the short, medium, or long term. You can check more here.
5 – Todo.vu
Made for freelancers and small businesses, Todo.vu delivers a free plan with all the features released, to meet this atypical moment that we live.
6 – Lumeer
Lumeer is a project management software that provides businesses with tools to handle tasks and improve collaboration across the organization. Free for 3 users to create new projects here.
7 – Miro
Miro is the online collaborative whiteboard platform that enables teams to work effectively together, from brainstorming with digital sticky notes to planning and managing agile workflows with a free plan for new users here.
We hope these Free Scrum Software can really make a difference in your new projects. Just use them and make sure that one will fit perfectly with your daily deliveries.
May your year 2021 be a year of achievement.
Follow us on our social networks and subscribe to our newsletter for more tips!